Cricket is one of civilisation's greatest achievements yet to see a documentary about cricket on the big screen is unusual. Death of a Gentleman is very welcome; at last you can go to the cinema and watch a film about cricket.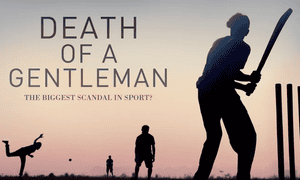 By cricket journalists Sam Collins and Jarrod Kimber, who make themselves the stars of the piece Nick Broomfield-style, the aim and style of the documentary changes over the course of the film. At the start it follows debutant Australian cricketer Ed Cowan as he plays his first Test Match for his country, filmed with a light hearted viral-video approach. It is also an investigation into whether or not Test cricket is dying, given the rise of 20:20 – a shortened form of cricket which can be completed in an evening. (I can hear non-cricketers asking If the shortened form can be completed in an evening how long does the longer form take to play? Good question. A game of international Test cricket lasts five days. Yes five – and there's only a five day limit because the England team once almost missed their boat home from South Africa after a match lasted 12 days).
However the focus of the film changes dramatically when the filmmakers realise that they have found a story about possible corruption in the upper echelons of cricketing administration. Indian cricket has taken over world cricket with the connivance of the two other big powers, England and Australia. Have the big three lost interest in the world game? Is their greed strangling the smaller nation? The film changes direction and the filmmakers take centre stage as they door-step high-level cricketing meetings and ask awkward questions of officials – though it is not made clear how or if these officials are benefiting personally.
The filmmakers have stumbled into a more interesting film. Even though much of the Cowan footage had already been shot the tough decision should have been taken to scrap it and tighten the focus. Keeping it means the more important story is hidden in a flabby film that covers too many subjects and takes far too long to get to the corruption investigation. Cynics might say the documentary's drawn out structure is based on Test Match cricket. I like the long form but sometimes it can be fairly described as five days of not much happening, ending in a draw.
Death of a Gentleman ends a long way from its starting point and is a depressing tale for the cricket fan. Especially one who thinks 20:20 is not really cricket at all. As a film it is very slow and has structural problems but its message trumps those issues and makes it a film that anyone who cares about the future of cricket should definitely watch.